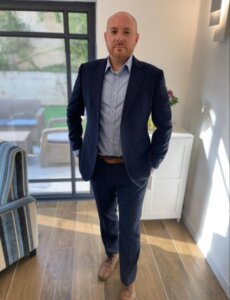 Jason Pearlman
Courtesy of Jason Pearlman
MODI'IN, Israel — Hanukkah is about to be celebrated by Jews worldwide. For some Israeli Jews, the holiday pervades life year-round, because they live where the history is believed to have happened. 
"We're the inheritors. We're the Jews who live in the Maccabees' town," said Jason Pearlman, a resident of Modi'in in central Israel. "At Hanukkah time, it's more palpable."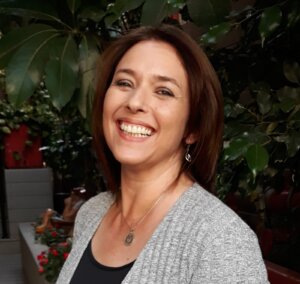 Belinda Talkar Courtesy of Belinda Talkar
Three places in Israel, located near each other and midway between Jerusalem and Tel Aviv, are among those that lay special claim to Hanukkah: Modi'in, Hashmonaim, and Maccabim, named for the Maccabees, the ancient heroes who stood up for Judaism in the face of Greek-Seleucid forces.
Tourists flock to the area, especially around Hanukkah time, which begins Sunday evening and lasts eight days, to better understand the story of the holiday. For locals, including English-speaking immigrants, living where the Jews triumphed and where many believed a military miracle occurred deepens their Jewish and Zionist pride.
Living in the city of Modi'in represents both modernity "and the historic presence of the people of Israel," said Pearlman, a public relations professional from Sunderland, England, a duality that "we don't take for granted — and adds to the significance" of the holiday.
Belinda Talkar, who lives in the West Bank settlement of Hashmonaim, said she can see and feel the energy of Hanukkah in the lit candles displayed in her neighbors' menorahs. "It's out there, is in our faces and is real. It's a direct connection to the history that is beneath our feet," said Talkar, a business consultant who immigrated from Glasgow, Scotland.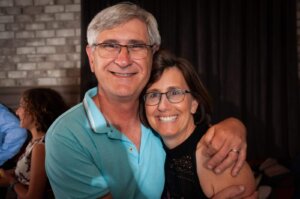 Nathan Cherny with wife Nancy Block-Cherny Courtesy of Nathan Cherny with wife Nancy Block-Cherny
And when Nathan Cherny walks along the hills and woods near his home in Maccabim, he considers how the Maccabees used the area's topography to defeat their enemies more than two millennia ago, beginning in 167 B.C.E. "It's nice to live amid so much history," said Cherny, a physician originally from Melbourne, Australia, who noted that he was born during Hanukkah.
A city reborn on Hanukkah
Modi'in was the hometown of the Maccabees — called Maccabim in Hebrew. They spawned the Hasmonean dynasty, which ruled in Judea for a century. (The community of Hashmonaim takes its name from the Hebrew word for Hasmoneans.)
Then-prime minister Yitzhak Rabin laid the cornerstone for Modi'in, a planned city, in a ceremony held on Dec. 14, 1993, during Hanukkah.
Archaeologists haven't definitively established the site of ancient Modi'in beyond its general proximity to its present-day namesake. In addition to the contemporary places' names — another one is Matityahu, a settlement across from Hashmonaim that honors the priest who led the Maccabee revolt — artifacts excavated in the area recall the Maccabees. Some of them date to the Second Temple period, when the original Hanukkah took place, according to accounts in the First and Second Book of Maccabees.
Each Hanukkah, Israeli tourists and school groups explore sites connected to the Maccabees on excursions marketed with such names as "In the Footsteps of the Maccabees," "Hanukkah in the Land of the Hasmoneans" and "Visiting Hasmonean Castles."
The visitors want to "connect to the geographic place," said Shani Ploskonos, who works for Kfar Etzion Field School, a nonprofit organization that runs Hanukkah-themed tours. She joked that while her family's roots are Russian, her Greek-sounding surname fits the holiday.
The vision of Judas Maccabeus, woodcut engraving after a drawing by Julius Schnorr von Carolsfeld published in 1877. Photo by iStock
When they stood up for Judaism — perhaps to the extreme, as then and even now some call their firebrand approach zealotry — the Maccabees couldn't have imagined their hometown evolving into today's suburban city of 100,000 people. Modi'in enjoys one of the highest standards of living in the country. A municipal plan approved in August would balloon Modi'in's population to 240,000, which would make it Israel's sixth-largest city.
The Hanukkah tour
"We know the Hanukkah story happened in this area," said Margalit Frydman  as she sets off with a visitor on a five-hour tour of several sites relating to the Maccabees. "Our best source is this," she said, taking from her backpack the First Book of the  Maccabees, written soon after the Jewish rebels' victory.
She read verses stating that Matityahu moved from Jerusalem to Modi'in, and listing his five sons and their nicknames. One, Judah, was known as Maccabeus — Judah Maccabee.
Frydman, who lives in Modi'in and has guided in the country for more than 30 years, read the verses while sitting on the boulders that served as benches in a Second Temple-era synagogue — possibly the oldest Jewish house of worship in the world, she said. Visible in the one-room synagogue were remnants of six columns that had supported a roof. A square by one column possibly was a lectern on which the Torah was read to those assembled. Because the Second Temple functioned then, a synagogue may have served only for Torah readings and not prayer, she said.
But since 2006, Modi'in residents have worshipped once a year at the ancient synagogue — the Friday night of Hanukkah. The annual service attracts hundreds of people from the city's many synagogues. Secular Jews come, too, drawn by the historical echoes.
The service represents "an anchor" for the modern city's Maccabee roots and "is part of the whole romance" of Zionism, said Elli Fischer, who lives in Modi'in and organizes each gathering.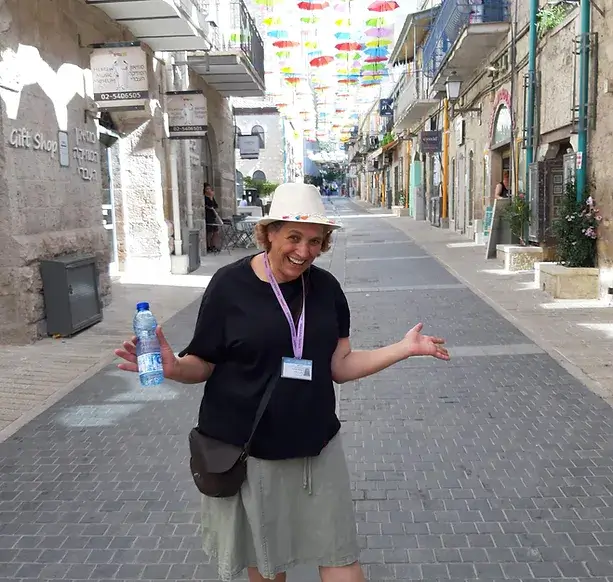 Margalit Frydman Courtesy of Margalit Frydman
"These are ancient landscapes that forged us as a people, and we preserved those memories, following them, like a trail of breadcrumbs, back home after so many centuries," he said.
Alongside the synagogue, steps lead down to a mikvah, a ritual bath. Discussing symbolic purification makes sense here because Hanukkah celebrates the Maccabees' sanctifying the Temple by lighting pure oil after the Seleucids desecrated it, Frydman said.
The complex, approached via an ancient road that also was excavated two decades ago, is known as Umm el-Umdan, Arabic for mother of pillars. The name's similarity to Modi'in, and the hoard of archaeological finds at the synagogue and throughout the city, lend credence to experts who place ancient Modi'in here, Frydman said.
A few miles northeast is another hill in Modiin, Givat Hatitora, that's considered a possible site of the original city. From a Crusader fortress, Frydman pointed north, beyond the busy Highway 443, toward the Palestinian village of Beit Ur al-Fauqa. That's where Judah Maccabee defeated the Seleucids in the third of eight battles. 
Turning south, she directed a visitor toward the site of the fourth confrontation, known as the Battle of Emmaus. A key battle would be fought there in Israel's War of Independence in 1948. Emmaus is now known as Latrun, housing a memorial to soldiers in the Israel Defense Forces' tank brigade and displaying scores of tanks that tourists can sit on.
"We like to think of the eight days of Hanukkah being happy, a party — but, no, it was a very long process," she said.
Hanukkah and Zionism
In modern times, the holiday has celebrated the miracle of the temple's rededication, while downplaying the Maccabees' struggle for Jewish independence and religious freedom. However, Zionists settling Israel in the late 19th and early 20th centuries seized upon the Maccabees as role models for Jews' transformation from powerless people in the Diaspora to confident, independent and brave residents of their ancestral homeland.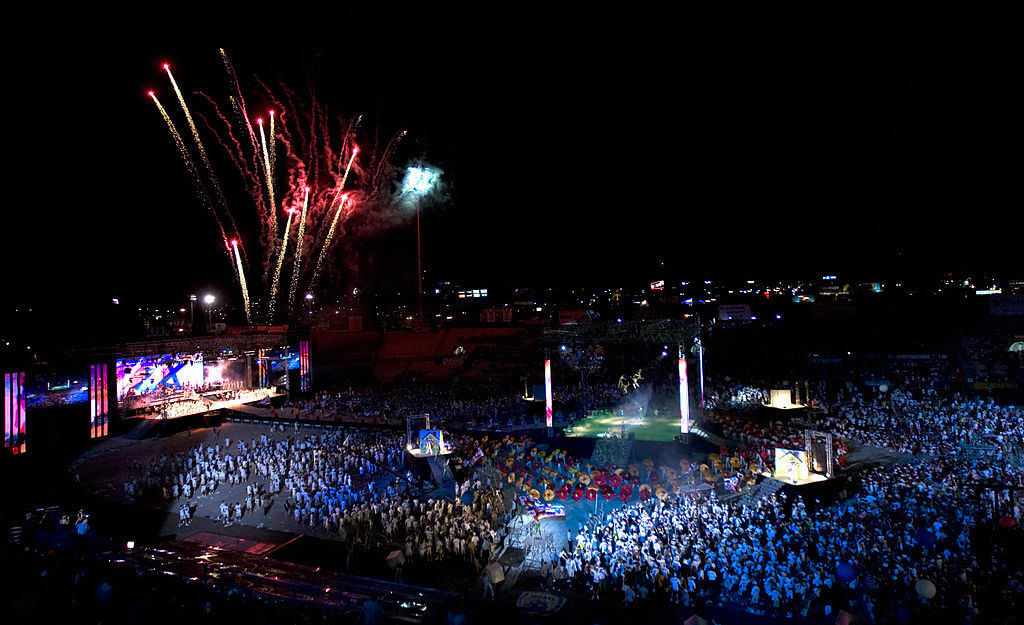 Fireworks are set off during the opening ceremony of the Maccabiah Games in Tel Aviv on July 13, 2009. Photo by DAVID FURST/AFP via Getty Images
It's from the Maccabees that the Maccabiah, the international Jewish sports festival held in Israel since it began in 1932, took its name. Maccabi is the name of a popular youth-sports organization in Israel and abroad, and the name of the teams it sponsors in basketball and soccer leagues. It also is the name of one of Israel's major health maintenance organizations.
Modi'in's Hasmonean Heritage Museum is located on Dam HaMaccabim Street. It means "the Maccabees' blood," but is the name of a bright red flower, a helichrysum sanguineum, that is ubiquitous on stickers distributed at military cemeteries on Israel's Memorial Day.
Throughout Israel, the Maccabees are often recalled at ceremonies to open a new  building or at house-warming parties. Each of those is called a chanukat habayit — a house dedication. The Hebrew word Hanukkah means dedication.
The Maccabees' contemporary influence is so appealing that it is sometimes invoked when the connection to history is at best tenuous. Just west of Modi'in, a Highway 443 traffic sign that's brown, denoting a historical site, announces "Maccabee Graves."
The empty graves there, carved into limestone and with covers ajar, are plentiful — but they're not from the Hasmonean period. Nor is a tiny Ottoman period structure a few steps away. Blue spray paint on its outer walls reads "Matityahu's Grave." 
On one recent afternoon, five young men sat outside the stone building. One man strummed a guitar. Inside, two observant men sat beside a tomb adorned with modern stone and chiseled with words commemorating Matityahu, who reportedly is buried inside. Memorial candles covered the slab, as did bags of potato chips and bottled beverages.
Yosef Amar and his friend Yotam Borat had come from the Samaria region on a periodic visit to graves of righteous men. Being at Matityahu's grave just before Hanukkah was coincidental, they said.
"I came because of the idea of Jewish strength, of Jews saying, 'We're not conquered; we can take matters into our own hands,' " said Amar, a rabbi at a hesder yeshiva, which combines military service with religious study. 
Amar said the Maccabees' ideals resonate today, with Israel often under an international microscope.
"There's a message to us not to feel the need to conform," he said. "There's too much pressure on us to surrender diplomatically, to not ascend to the Temple Mount, so others won't get angry. If we become like everyone else, we'll lose our uniqueness and our national legitimacy."
Amar said he'd like to return to visit the grave during Hanukkah, but will be away on military-reserve duty. 
And he smiled at the irony of missing the chance to visit a Maccabee-themed site, on the holiday celebrating the Maccabees' feats, due to his own military obligations.
The post A miracle happened somewhere around here: A look at life on the land where Hanukkah began appeared first on The Forward.