For the last month, expressions of pro-Palestinian solidarity at the 2022 World Cup has been a sensation that has prompted the media to call Palestine the tournament's "unofficial team" and label it "the first Palestinian World Cup."
Palestinians have been reveling in the unprecedented abundance of our flag at the football stadium, both in the stands and on the pitch by the semifinalist Arab team, Morocco. This wide display of popular solidarity shone a warm light through heavy clouds of despair and anguish, as it showcased — against what many have been arguing — that Palestinians are not alone, we haven't been left behind and the world hasn't moved on from our just cause and fight for freedom and dignity.
Palestinians saw the vibrant support at the World Cup from people across the region and beyond as an assertion that recent Israeli-Arab normalization agreements don't reflect the will of the public but only of a clique of authoritarian leaders. It was a manifestation echoing polls that consistently show how Arab majorities overwhelmingly oppose normalization. At the same time, the symbolism of the Palestinian cause can, unfortunately, be exploited by autocratic regimes using our flag as armor to deflect and shield themselves from criticism and to solicit their populations' sympathy and support.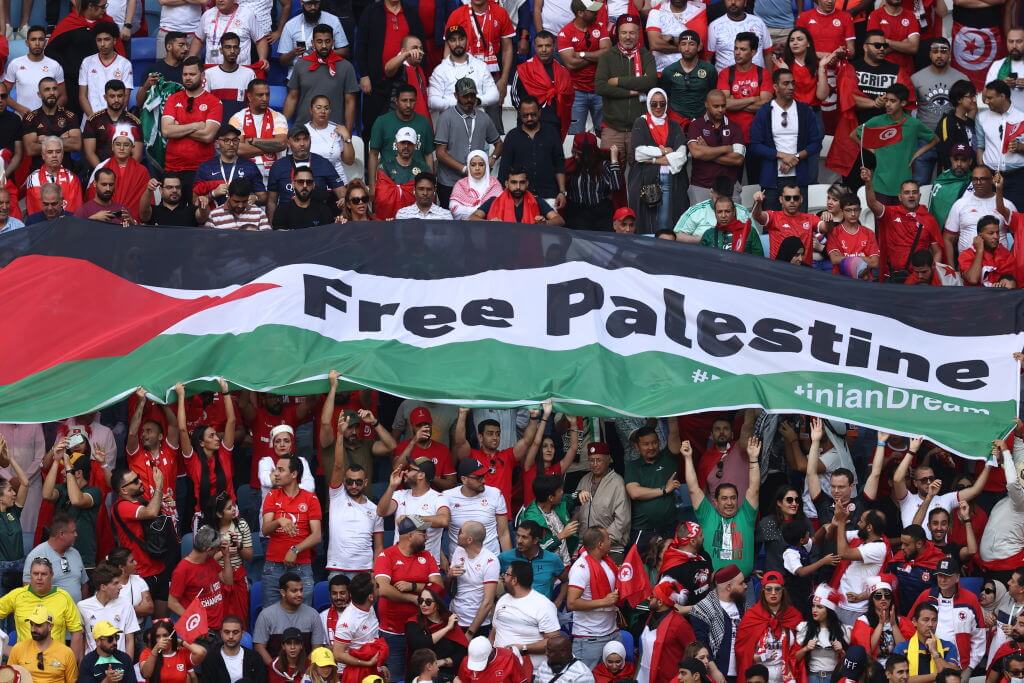 Fans hold a Palestinian flag with "Free Palestine" written on it during the FIFA World Cup match between Tunisia and Australia at Al Janoub Stadium on November 26, 2022 in Al Wakrah, Qatar. Photo by James Williamson -AMA/Getty Images
The World Cup created a venue as well to protest the shrinking spaces for expressing support for Palestine, whether in the streets, on college campuses or on social media. This solidarity, however, is multifaceted. In one sense it was a protest against Arab leaders who invested in normalizing relations with Israel as a path to appeasing Washington, D.C., protecting their thrones and entrenching their authoritarian rule. It was also a way of protesting how Israel's occupation cripples Palestinian sports, by imposing travel restrictions as well as detaining players.
The ubiquitous presence of these pro-Palestine solidarity gestures at the 2022 World Cup, however, was only made possible by the fact that, for the first time, an Arab Muslim state is hosting the football tournament. If this event was held in Europe or the U.S., with more restrictive and discriminatory visa systems, access for Arabs and the Global South would have been dramatically limited. Qatar suspended its visa system during the World Cup for World Cup ticket holders, something that no Western country is likely to do.
Gestures expressing Palestinian solidarity are also far more restricted outside of the Arab world. If Germany, for example, hosted the tournament, not only would this type of solidarity not have been on display, but also the raising of Palestinian flags and wearing of the keffiyeh may have been banned. The Union of European Football Associations deems the Palestinian flag "inappropriate" and swiftly moves to impose penalties and fines if football fans raise it at stadiums, let alone football players on the pitch.
Palestine is not a brand to be used and abused to confer coolness and legitimacy on whoever is waving its flag. Although the 2022 World Cup creates feelings of delight and warmth from seeing a strong presence of the Palestinian flag, we ought to be vigilant, critical, and nuanced in considering how this support can also be cynically exploited in PR stunts and charming offensives.
Saddam Hussein was one of the first Arab leaders to weaponize Palestinian solidarity, when in 1991, he fired approximately 42 Scud missiles into Israel during the First Gulf War. He was consciously trying to position himself as a hero fighting for Palestine, in order to gain Arab support for his invasion of Kuwait. He was hoping for an Israeli retaliation (which never came) to prompt Arab and Muslim countries to rescind their support for the U.S.-led coalition against Iraq.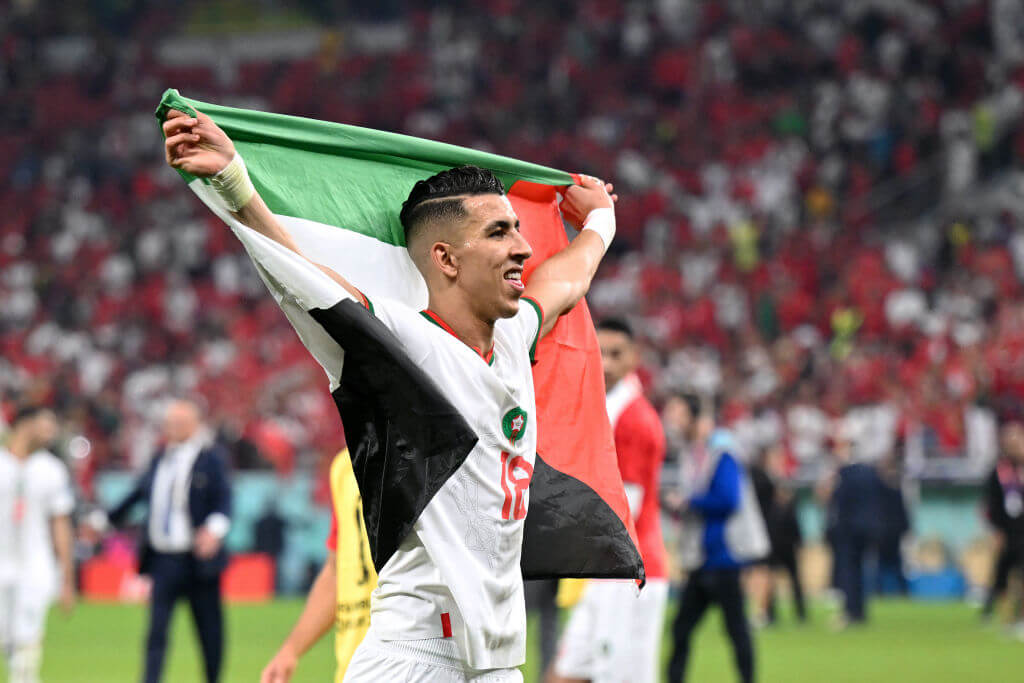 Morocco's defender Jawad El Yamiq waves the Palestinian flag after his team won the World Cup football match between Canada and Morocco at the Al-Thumama Stadium in Doha on December 1, 2022. Photo by Natalia Kolesnikova/AFP via Getty Images
Qatar, the host of the 2022 World Cup, has heavily invested, particularly on social media, in encouraging pro-Palestinian activism throughout the competition to win the hearts and minds of the Arab and Islamic world (and the Western left), posting images of Qataris handing out Palestinian armbands. These efforts are an attempt to boost its regional status and to distract from the controversies surrounding the World Cup, not to mention its not-so-clandestine relations with Israel. Qatari media touted the idea of giving Arab teams Palestinian-flag armbands as a way of slamming Western criticism of its human rights record. Support for Palestine is genuine to some extent in Qatar, but it also carries distinct political advantages.
In the middle of the World Cup, Qatar quietly laid off 42 Gazan personnel at the Qatar Charity office in Gaza — which used to provide aid to 16,000 orphans — in a step in the expected closure of that office. Simultaneously, in both Ramallah and Gaza, Qatar prepared two large halls for Palestinians to watch the live feed of the matches, where all walls are fully adorned with Qatari flags, pictures of the Emir and his father, and statements of support. It even made an ad promoting the World Cup on Al Jazeera that depicts the tournament bringing happiness, joy and excitement to an otherwise depressed Palestinian population.
Similarly, the Moroccan government is also eager for its national football team's strong embrace of the Palestinian cause to distract from its own occupation of the Western Sahara.
Solidarity with the Palestinian cause at the tournament is not an either/or. There are different dynamics, motives and depths to that support depending on whether it comes from the masses or the state. While the former is touching to see, the latter must be exposed for its multifaceted intentions.
To contact the author, email editorial@forward.com. 
The post I'm moved by the Palestinian solidarity at the World Cup. I hope it's not being exploited appeared first on The Forward.