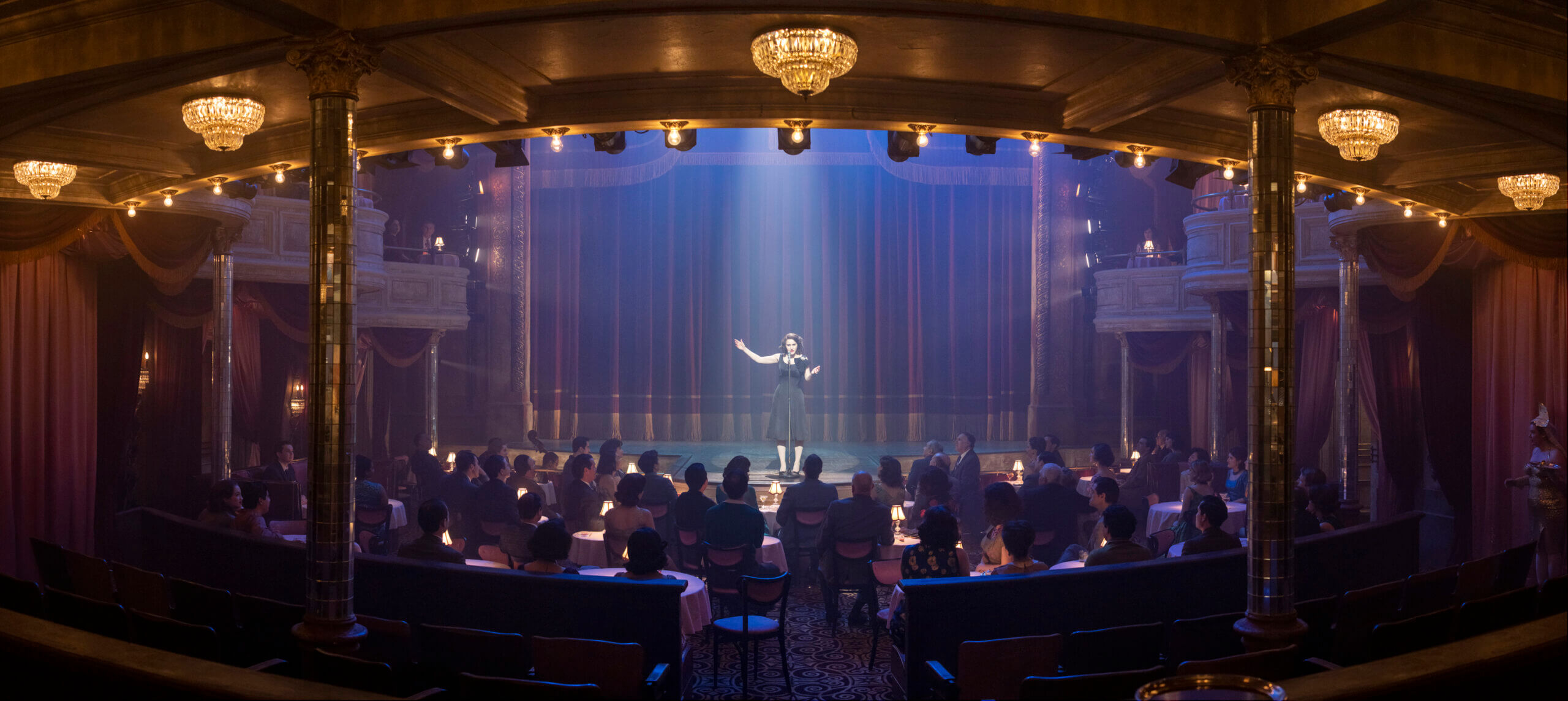 It seems like a fever dream. In episode four of the new season of The Marvelous Mrs. Maisel, Midge Maisel is at an industrial exposition. Clad in coveralls, she narrates a musical featuring tap-dancing garbage men and a singing trash heap.
It seems so kitschy that it's hard to believe that shows like this actually existed. But it turns out that the episode is just another example of The Marvelous Mrs. Maisel's commitment to history; industrial musicals were very real. 
There were entire productions about Xerox machines, Listerine, Johnson & Johnson sunscreen and diesel engines. By the '60s, they were so common that even products like spark plugs and blank keys had shows. Whatever product you can think of — food, machinery, appliances — if the brand existed half a century ago, it probably had a musical.
Picture it: A woman in a mini-skirt sashays across the room toward a bespectacled grocer. She sensually strokes his cash register, and, in a sultry tone, sings: 
That's the way to work these payments from Purina

That's the way to fatten your till.
Or perhaps you'd prefer a bigger number, with a dozen dancers in tuxedos and gowns, touting Milliken fabrics:
In polyester, who's got the bester

In polyester, the texturized kind.

May we suggester, who leads the rester

In polyester, the Milliken kind!
Some of them have entire plots, like Raguletto, an industrial musical advertising Ragu pasta sauce starring an Italian Renaissance noble looking for the new tomato sauce to save the kingdom. 
"Industrials," as they were known, were far more than just a song or two. There were pyrotechnics. There were dancers. There were choreographers and stage managers and costume designers. 
And many big Broadway names were involved. Bob Fosse choreographed for them. Martin Short and Chita Rivera performed in them. John Kander and Fred Ebb — the songwriting team known for shows such as Chicago and Cabaret — did songs for General Electric.
The industrials paid well, better than most mainstream productions; in 1956, Chevrolet spent $3 million on a production, while My Fair Lady opened that same year with a budget of just $446,000.
Yet the industrials were closed to the public, performed for crowds of salesmen, either as rewards for good performance or to promote the newest model of car or dishwasher that vendors would soon be selling. Which means that despite the size and budget, the musicals were relatively underground — and lost.
The razzamatazz
In August, 1966, Bill Siegler was driving Ford's newest model, the Cougar, through St. Thomas, in the U.S. Virgin Islands. He was bringing it from the boat it arrived on to a company retreat. The only thing was, he couldn't really see where he was going — the car was going to be unveiled onstage, so it was totally covered in a canvas shroud.
"There was a little opening in the canvas on the windshield, maybe six inches high by eight inches wide," Siegler said. "And that's how I drove, up over the mountains, to get the car down to the beach."
Siegler, 81, is now retired from a career largely in television and lives on the Upper West Side. But then, he was the stage manager for Ford's yearly industrial musical spectacular. When the Broadway show he had been working on was closing, a friend in the production asked him if he wanted to go to St. Thomas. He said yes immediately.
A cadre of the highest-performing car dealers and salesmen was coming down to the island aboard the U.S.S. Independence as a reward for their success. And they were going to get the first glimpse of the newest vehicle they'd be selling in the upcoming year. Which is where Siegler and the rest of the performers and crew came in, building a stage and set for the performance that would launch the Cougar.
"I was in the water, signaling the guy with a torch on my shoulders," Siegler recalled. "The car came running off the landing craft, whizzed through the trees and up onto the stage to great rounds of applause from all these dealers and salesmen — who were pretty well lit by this point anyhow."
This kind of razzamatazz was par for the course in industrials. Siegler, who went on to work Ford's "bus and truck tour," bringing the new car production to cities across the country, said they used "every conceivable kind of theatrical nonsense" — singers and dancers, smoke machines and turntables — to make an impact.
'It wasn't Chekhov – but it was exciting'
Steve Young began collecting the hard-to-find records of the industrial musicals 20 years ago, when he was a writer for The Late Show with David Letterman; the result was a book, Everything's Coming Up Profits: The Golden Age of Industrial Musicals, and an extremely delightful — and critically acclaimed — documentary, Bathtubs Over Broadway.
He's unearthed hundreds of records of productions with names like Diesel Dazzle and The Bathrooms are Coming. And some of the productions, he says, were really quite good.
"I think intrinsically people imagine it must've just been a few people from the accounting department putting on a skit in the cafeteria," Young told me over the phone. "No, this was every top-level structure of musical theater that American money could buy."
And despite the bizarre subject material, the composers and performers — all theater professionals — took deep pride in their work, and used it as an opportunity to further hone their craft, Young told me. (This is where Mrs. Maisel gets things wrong; Midge saw the job as beneath her.)
"You had to be very fast and adaptable. Because you'd write a song and then at the last minute, the executives would tell you 'oh we've changed all the specifications of the tractor, can you rewrite the song? I know the show is up in an hour,'" said Young. "If you are handed the world's least promising assignment for writing something creative and you say I'm going to prove that my talent and skill can dig me out of this deep hole, whether it's write a musical about silicone products or tractors or whatever — I think it made people so good."
Young said Sheldon Harnick — famous for Fiddler on the Roof, but also the lyricist behind musicals for companies like Buick, Ragu pasta sauce and Burger King — told him he was sad to leave industrials behind when he and his writing partner Jerry Bock found mainstream success.
"You'd think, 'oh wouldn't they be desperate to be done with that?'" Young recounted. "But he said, 'I enjoyed the puzzle of it so much.'"
Siegler agreed. "It wasn't Chekhov, but it was exciting," he said. "It really was weirdly romantic. Everyone pulled together to make it work."
Yet despite the big names and bigger budgets, the industrial masterpieces have largely been lost. While there were commemorative records of the performances, often recorded live, they were labeled not for public airing or distribution. They're now collectors' items for a few, niche record nerds and archivists who know of the history.
For those who were involved, however, it was hard to forget. Siegler eventually moved on in his career; he went into TV, becoming a producer at NBC. But he remembers the industrials fondly — so much so that when he got a higher-paying job, he immediately bought the Ford Cougar car he'd launched in Saint Thomas: "I mean, I was so connected to it."
Leaving their mark on American business
According to Young, industrials were deeply tied to a particular time in the American business world. It was the 1950s and the economy was booming. Workers tended to be "lifers" who spent their entire careers climbing the ladder at a single company. There was a sense that the company was family, and a lot of workers' values and identity were tied up in their job.
The industrials might look painfully cheesy to our modern sensibilities, but at the time, they were legitimately moving. They were selling a version of the American Dream — a world in which each employee could rise up the ladder. And they were selling the idea of selling by painting the product as something that made America strong or pushed human innovation forward.
"As corny as that is, I do think that these shows, when they were really really well done, would absolutely hit people in their hearts in the audience," said Young. "People told me they'd see tears streaming down the faces of middle managers and executives and salesmen at these shows."
Over time, American work culture changed. Consultants and accountants advised businesses to cut everything that couldn't be proven to improve the bottom line, and morale-boosting events like the industrials became hard to justify. Meanwhile, workplace culture shifted to one that viewed workers as disposable, and pay disparities between CEOs and mailroom workers yawned so wide that it became difficult to believe in the American dream of rising through the company ranks. Young even suggested that the advent of 401k plans shifted the way employees tied their identity to work places, freeing them from the anchor of a company pension. 
Plus, big musicals were no longer so inspiring; by the 1970s and '80s, the industrials had become so ubiquitous that they had lost their novelty, and musicals were considered the sort of thing your grandparents liked.
But Young told me they might be coming back; after all, musicals like Hamilton are hip. And since Bathtubs Over Broadway came out, Young has fielded calls from companies for gigs at conventions.
At a recent one, for a pharmaceutical company, the opening act was a musical. Young said people ate it up: "Everything old is new again."
The post That industrial musical in 'Mrs. Maisel' wasn't a fever dream — it was history appeared first on The Forward.