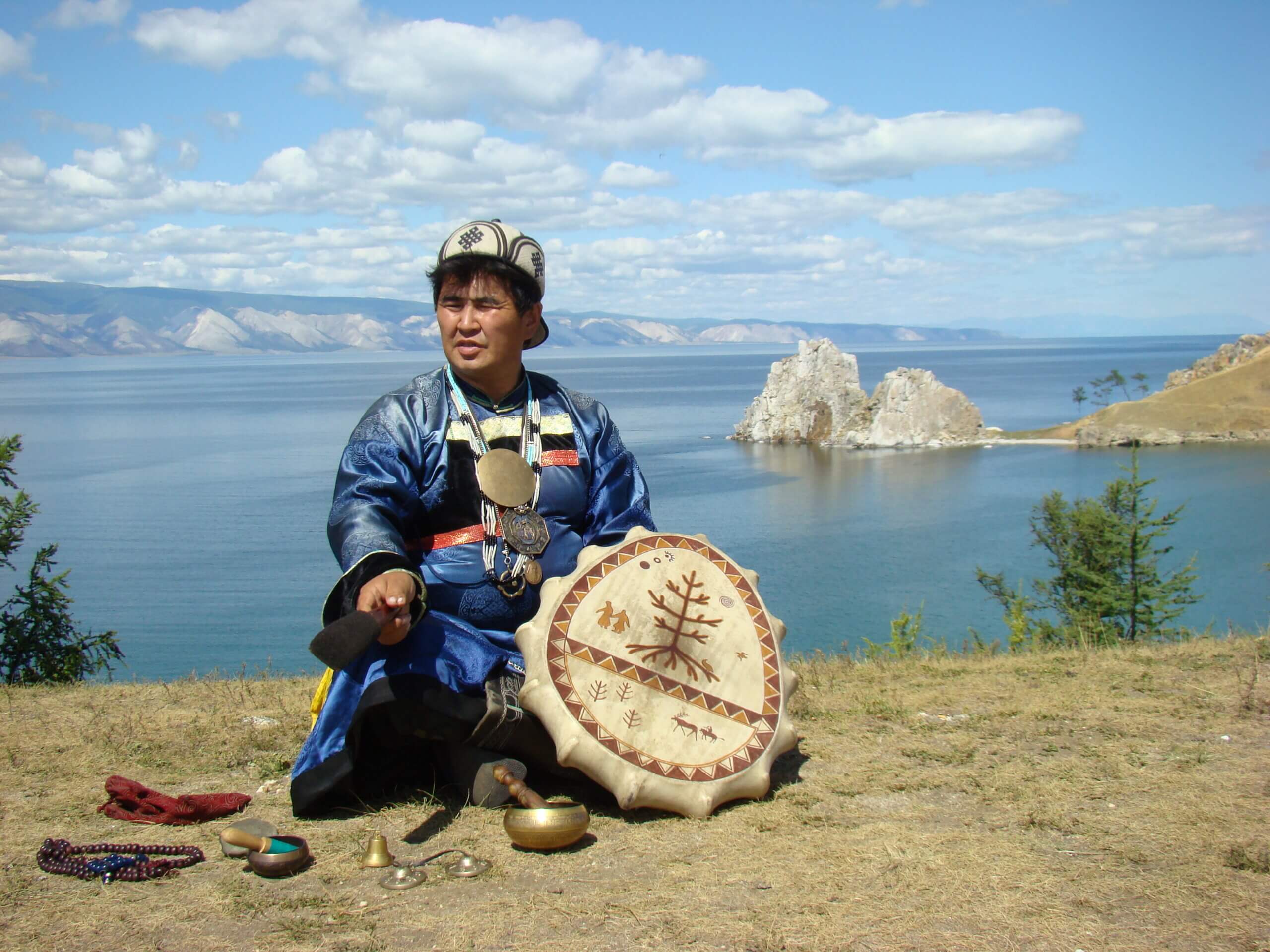 די פֿאַרגאַנגענע וואָך בין איך אויפֿגעטראָטן אין פּעטערבורג מיט אַ לעקציע וועגן דער חסידישער מיטאָלאָגיע. אויפֿן סמך פֿון דער דאָזיקער טעמע איז כּדאַי צו באַטראַכטן כּמו־שאַמאַנישע עלעמענטן אין חסידות און אין דער ייִדישער ליטעראַטור.
אַ שאַמאַן איז אין אַ סך אוראַלטע קולטורן אַ מענטש, וואָס קאָן אַרײַנפֿאַלן אין אַ טראַנס, באַזוכן גײַסטיקע וועלטן אין זײַן נשמה־נסיעה און עמעצן אַרויסהעלפֿן: אויסהיילן אַ קראַנקן, ראַטעווען פֿון אַ גזירה, אָפּהיטן פֿון אַ שׂונא. כּדי אַרײַנצופֿאַלן אין אַ ספּעציעלן צושטאַנד פֿון באַוווּסטזײַן, ווערן אין שאַמאַנישע טראַדיציעס אָפֿט באַנוצט ריטמישע מוזיק, טענץ, פּויקן און צומאָל פּסיכאָדעלישע (נאַרקאָטיק)־מיטלען. אַ ריי פֿאָרשער פֿון חסידות האָבן שוין באַמערקט, אַז אַ חסידישער צדיק פֿירט זיך אויף אין אַ סך אַספּעקטן ווי אַ שאַמאַן, וואָס פֿליט אַרויף אין הימל און פּועלט אויס מופֿתים מיט דער הילף פֿון ניגונים און אַפֿילו אַ גלאָז משקה. דאָס ריטמישע שאָקלען זיך און קלאַפּן מיט די הענט האָט אויך אַ כּמו־שאַמאַנישן טעם.
דאָס איז לאַוו־דווקא אַ צופֿאַל. אין דער תּקופֿה פֿונעם בעל־שם־טובֿ האָט בײַ די אוקראַיִנישע טאָטערן נאָך געבליט אַן אוראַלטע פֿאָרעם פֿון שאַמאַניזם, וועלכע האָט אויך פּאַראַלעלן בײַ די קריסטלעכע פֿאָלקס־היילער אין אונגערן. אַזעלכע טראַדיציעס זענען געווען באַקאַנט אין געוויסע ייִדישע קרײַזן – אַ בעל־שם איז דאָך אַ בעל־מופֿת. ווי אַבֿרהם רעכטמאַן דערציילט אין זײַן בוך "ייִדישע עטנאָגראַפֿיע און פֿאָלקלאָר", האָט אַנ־סקיס עקספּעדיציע אַנטדעקט אין מיזרח־אייראָפּעיִשע שטעטלעך אַ גאַנצן שיכט ייִדישע פֿאָלקס־היילער, וואָס האָבן זיך אויפֿגעפֿירט פֿאַקטיש ווי שאַמאַנען.
אַ וויכטיקער שטריך פֿון שאַמאַנישע קולטורן איז די באַזונדערס גרויסע ראָלע פֿון מיטאָלאָגיע, וואָס מיינט נישט סתּם אַלעגאָרישע געשיכטעס וועגן אַלטע עבֿודה־זרות, ווי בײַ די אַמאָליקע גריכן, נאָר אַ מיסטישע פּראַקטיק פֿון מעשׂה־דערציילן. אַ שאַמאַנישער מיטאָס, אָפֿט באַגלייט מיט אַ ספּעציעל געזאַנג, טענץ און אַנדערע מיטלען, וואָס ווירקן אויפֿן באַוווּסטזײַן, איז מסוגל אַרײַנצופֿירן דעם עולם אין אַ צווישן־וועלט, וווּ די אַלטע מעשׂה ווערט אַ בריק צווישן גשמיות און רוחניות. אַ באַגאַבטער זינגער און רעדנער – נישט זעלטן אַליין אַ שאַמאַן – איז בכּוח עפּעס אויפֿצוטאָן מיטן עצם־אַקט פֿון דערציילן אַ מיטאָס.
דאָס איז זיכער זייער כאַראַקטעריסטיש פֿאַר די חסידים. דער בעל־שם־טובֿ האָט געזאָגט, אַז דער, וואָס דערציילט מעשׂיות פֿון צדיקים, איז ווי אַן "עוסק במעשׂה־מרכּבֿה". דער דאָזיקער טערמין האָט זייער אַ ספּעציפֿישן קבלה־טעם. אַן "עוסק במעשׂה־מרכּבֿה" איז נישט סתּם אַ טעאָרעטישער פֿאָרשער פֿון מיסטישע ענינים, נאָר אַ מענטש, וואָס קאָן זיך דירעקט פֿאַרבינדן מיט רוחניות, זיך לאָזן אין אַן אינערלעכער הימלישער נסיעה און זען אָדער שפּירן פּערזענלעכע גײַסטיקע אַנטפּלעקונגען.
די אַגדות אין גמרא זענען פֿאַרשריבן אויף ייִדישע דיאַלעקטן פֿון אַראַמיש – אַ מין ייִדיש פֿון יענער פֿאַרצײַטישער תּקופֿה. ס׳איז באַקאַנט, אַז נישט ווייניק גמרא־אַגדות שטעלן מיט זיך פֿאָר ייִדישע ווערסיעס פֿון גאָר אַלטע מעסאָפּאָטאַמישע, פּערסישע, גריכישע און אַנדערע לעגענדעס. בײַ די אַשכּנזישע ייִדן זענען בנימצא אומצאָליקע אייגענע פֿאָלקס־מעשׂיות, וואָס שטאַמען כּסדר פֿון גערמאַנישע, קעלטישע, סלאַווישע און אַפֿילו טערקישע קוואַלן. ווען אַ צדיק דערציילט זיי איבער, ווערן זיי אַ נײַער מין אַגדה, אַ דערפֿרישטע אַנטפּלעקונג פֿון דער תּורה־שבעל־פּה, און ייִדיש פֿאַרנעמט די ראָלע פֿון אַראַמיש ווי די הײַנטצײַטיקע אַגדה־שפּראַך.
ווען מע דערציילט געוויסע מעשׂיות בײַם רבינס טיש צי אין אַ חסידישן קלויז, באַגלייט מיט רימטישע ניגונים און טענץ, אין שײַכות צו אַ באַשטימטער דאַטע (געוויינטלעך, אַ יום־טובֿ אָדער אַ יאָרצײַט), ווערט די הייליקע לעגענדע – מיט אַן אַנדער וואָרט, דער מיטאָס אינעם קלאַסישן זין – ווידער אויפֿגעלעבט אין דער נשמה פֿון די באַטייליקטע. אין אַ סך הײַנטיקע חסידישע משפּחות ווערט דאָס הגדה־זאָגן בײַם סדר באַגלייט מיט אַ גאַנצן קאַנאָן פֿון סיפּורי־צדיקים, וואָס ווערן גענוי דערציילט פֿון דור צו דור, ווי אַ לעבעדיקע קייט, וואָס פֿאַבינדט די דבֿרי־חז״ל צום הײַנטיקן טאָג. דאָס עצם־דערציילן ווערט באַטראַכט ווי אַ מיצווה און א מעכטיקע סגולה.
רבי יצחק־אײַזיק סאַפֿרין פֿון קאָמאַרנע האָט אַפֿילו באַטאָנט, אַז דער, וואָס גלייבט נישט אין דער פֿאָלקס־מעשׂה, אַז אין אַ געוויסער שיל קומען בײַנאַכט מתים צו דאַוונען, איז אַן אַפּיקורס. דער דאָזיקער צדיק איז געווען אַ גרויסער בעל־חזיונות, וואָס האָט געפֿירט אַ טאָגבוך פֿון נבֿיאיִשע חלומות. בײַם קאָמאַרנער רבין איז יעדע אָנגענומענע פֿאָלקס־מעשׂה ממש אַ חלק פֿון דער תּורה. ווײַט נישט אַלע חסידישע מנהיגים וואָלטן מסכּים געווען מיט אַזאַ עקסטרעמען צוגאַנג, נאָר ס׳איז באַקאַנט דאָס אַלגעמיינע חסידישע ווערטל, אַז דער, וואָס גלייבט נישט כאָטש אין אַ טייל וווּנדער־מעשׂיות וועגן דעם בעל־שם־טובֿ, איז אַ כּופֿר.
אַזאַ וועלטבאַנעם, אַז דאָס מעשׂה־דערציילן איז אַ מעכטיקער מיסטישער אַקט, האָט שטאַרק משפּיע געווען אויף יצחק־לייבוש פּרצן, דעם ניסתּר און אַ ריי אַנדערע ייִדישע שרײַבער מיט אַ נטיה צו ראָמאַנטיש־מיסטישער עסטעטיק. אַ גלענצנדיקער בײַשפּיל איז פּרצעס פּיעסע "בײַנאַכט אויפֿן אַלטן מאַרק". בעצם, האָט דער ייִדישער קלאַסיקער געשאַפֿן אַ נײַע קינסטלערישע מיטאָלאָגיע, ענלעך אויפֿן לאַטײַן־אַמעריקאַנער זשאַנער פֿון מאַגישן רעאַליזם, וווּ מתים באַווײַזן זיך צוזאַמען מיט לעבעדיקע מענטשן.
דורך פֿאַרצײַטיש־מיסטישע געשיכטעס ווערט די ייִדישע שפּראַך גופֿא פֿאַרטיפֿט און פֿאַרהייליקט. איבערנאַטירלעכע עלעמענטן און אומגעוויינטלעכע צושטאַנדן פֿון באַוווּסטזײַן שפּילן אַ גרויסע ראָלע אין אַהרן צייטלינס לידער און בײַ באַשעוויסן. מע קען זאָגן, אַז אַ דאַנק די כּמו־שאַמאַנישע עלעמענטן אין דער חסידישער וועלט, איז אויף ייִדיש פֿאַראַן אַן אייגענע ליטעראַטור־טראַדיציע פֿון מאַגישן רעאַליזם.
The post Traces of Shamanism in Hasidic storytelling appeared first on The Forward.