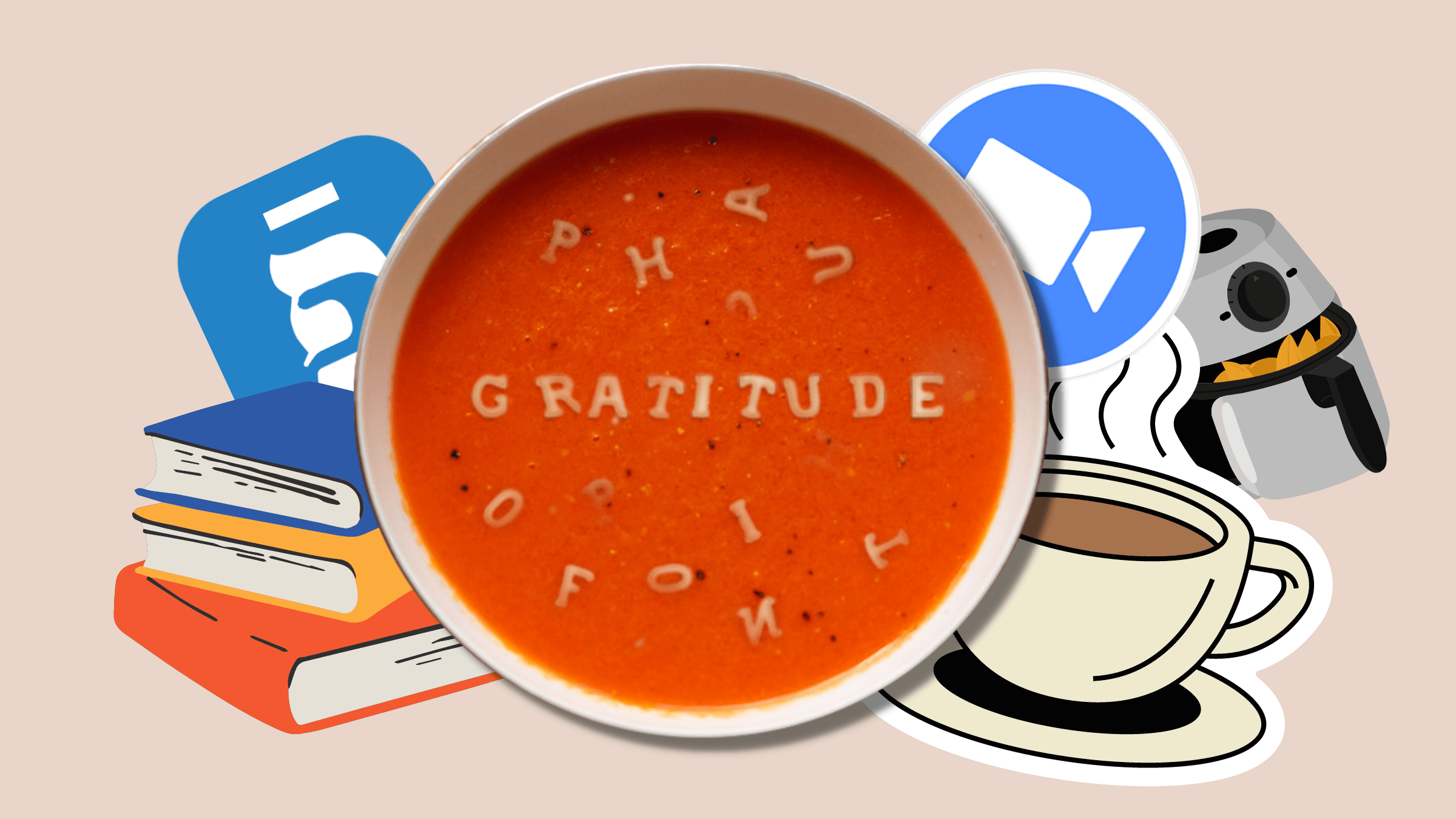 This is an adaptation of Looking Forward, a weekly email from our editor-in-chief sent on Friday afternoons. Sign up here to get the Forward's free newsletters delivered to your inbox. 
Seat belts. Debate. Coffee. These are a few of the things I'm grateful for right now. Zoom. Gift-giving. And you, our readers.
Maybe you spent some time around your Thanksgiving table actually giving thanks. Maybe you keep a "gratitude journal," writing down one or three or five items each night that deserve recognition. How about 26, one for each letter of the alphabet?
That's a little trick I learned from my friend A.J. Jacobs, the quirky and very talented author of memorable books including "Thanks a Thousand: A Gratitude Journey," an exploration of all it takes to make his morning cup of coffee. Each night, A.J. falls asleep thinking of things he is grateful for, from A to Z.
How to play
"I'll take the letter and start brainstorming words that start with that letter, and then I'll think — am I grateful for that thing or not?" A.J. explained in an email. "If I can come up with a specific reason I'm grateful for it, I'll move onto the next one.
"So for instance, if it's M, I might think: Molars," he continued. "I guess I'm somewhat grateful for molars, since I need to chew, but maybe too much of a stretch. How about Mammals — yes, I'm grateful for my dog, who is a mammal, but again, too general.  What about Microphone? Well, I just did a podcast today and I couldn't have done it without a microphone, so that seems both timely and specific enough to pass muster. So 'Microphone' it is. Moving on to N."
I've been doing this the past few months when I wake up at 2 or 3 or 4 a.m. It doesn't always work, in terms of helping me fall back to sleep, but it's a good exercise anyhow. So, herewith, my first annual "Looking Forward" Alphabet Soup of Thanksgiving.
What I'm thankful for this year
Art. Specifically, the way art shapes how my 15-year-old daughter sees the world, and even more specifically, her commitment to Inktober, an Instagram thing in which thousands do a drawing a day for a month based on one-word prompts.
Books. A.J.'s latest, "The Puzzler," was one of my favorites this year, plus the novel "Cyclorama," by our very own executive editor, Adam Langer, which is about "The Diary of Anne Frank" and high school drama clubs and politics and time. (Come hear me and Adam chat about the book at P & T Knitwear on the Lower East Side this Thursday evening, or at the New York Jewish Book Festival on Sunday, Dec. 11.). Also: Atul Gawande's "Being Mortal" (2014) is a must-read for all in the sandwich generation.
Coffee. Also: cookies. Better yet, coffee and a cookie.
Debate. Take "The Great Latke-Hamantashen Debate" that has been running annually at the University of Chicago since 1946. Seems a silly exercise, since the savory potato pancake is so obviously more scrumptious than the staid triangular pastry. But Amy Krause, who is doing a documentary about this storied tradition, reminded me recently that the debate is not over which is more delicious but which is "the more perfect Jewish food."
Something that represents our triumph against all odds or a villain who tried to destroy us? A snack embraced by every suburban diner or a cookie only eaten, often reluctantly, by celebrants of a spring holiday? Actually, it's the debate itself, the act of parsing these layers and respecting the alternate point of view, that is the most fundamentally Jewish thing.
Midterms, zucchini fries, and a scoop before bed
Elections. We may not always love the results — or, in Israel, the frequency — but I'm awfully glad we have them. And that these recent midterms were something of a rebuke to those who challenge their integrity against all evidence.
Fryer, Air. My favorite unnecessary kitchen appliance, by far. The single best way to warm up leftover pizza, for starters, but also a great time-saver for roasting vegetables, a greaseless alternative for schnitzel or zucchini fries, and a fun way to make potato chips, donuts, two-ingredient bagels and baked eggs.
Gifts. Nice to get, of course, but I'm just really appreciating the art of giving a good one. In this week's Bintel Brief advice column, our Beth Harpaz offers her relatively inexpensive and endlessly thoughtful recipe: Take $25 to the dollar store, buy as many small, fun things as you can find, wrap each individually in whatever you have lying around the house, and send to someone going through something hard, instructing them to open an item a day "or whenever they need a smile."
Huddles. That's what we call our newsroom meetings here at the Forward. Our journalists inspire and challenge me every day with their creativity, integrity, passion and caring.
Ice cream. Pretty much on my list every night, not gonna lie.
Alex Edelman, Kanye West, shifts at the fod pantry
'Just for Us': This one-man show by the brilliant millennial comedian Alex Edelman challenges all conventional notions of "standup" by applying the lens of laughter to a meeting of white supremacists. It's now playing in Washington, D.C.
Kanye West. Surprised? Of course I would rather he had not unleashed his hateful antisemitic tirades last month. But somehow this seems to have sparked a more fulsome, widespread and clear discussion of Jew-hatred than any in recent memory.
Laughter. Specifically, the sound of the husband laughing when our son tells a joke, especially a dopey dad-joke that said husband taught said son to appreciate.
Manna. The biblical concept, sure, but really I'm talking about the Manna Food Pantry, where I've been volunteering regularly since the start of the pandemic. (Which loyal readers of this newsletter know, since I've written about it not one, not two but three times).
I've had to miss a few Thursday-night shifts lately, which has only made the value of this weekly commitment more clear. And I don't mean the small value my personal presence may offer our customers, or the large value the pantry's existence provides for the 100-some families who come each week. I mean the value to me to having and mostly honoring this commitment, to forcing myself to take this two-hour break from whatever I'm obsessing over. It always clears my mind and reminds me what's important.
Asking good questions, amazing rabbis
News. Omelettes. Peloton.
Questions. As I wrote almost exactly a year ago, the lifeblood of both journalism and Judaism. I've been thinking a lot lately about what the Nobel Prize-winning physicist Isidor Isaac Rabi said about the importance of asking questions.
"Every other Jewish mother in Brooklyn would ask her child after school: 'So? Did you learn anything today?'" Rabi famously recalled. "But not my mother. 'Izzy,' she would say, 'did you ask a good question today?' That difference — asking good questions — made me become a scientist."
Rabbis. Especially Rabbi Charlie Cytron-Walker, who taught us all about everyday heroics when a terrorist walked into his synagogue in Colleyville, Texas, last January. And Rabbi Sandra Lawson, whose life and work are helping build a more diverse Jewish reality. And Rabbi Barry Dov Lerner, the father of an old friend, who emails every few weeks about something we're doing right. And my parents' rabbi, Benji Samuels. And my own, Rabbi Marc Katz, who has unwittingly become a regular feature of this newsletter.
Seat belts. More than 40,000 Americans and more than 1 million people worldwide die in car crashes each year. Many, many more do not, thanks to seat belts. And thanks to emergency-room doctors. And surgeons and nurses and physical therapists and social workers and the guy who fits patients for back braces and the lady who cleans the floors in the rehab unit. Thank you.
Letters, Yiddish, and our readers
TikTok. Yep, seriously. Did you read our piece about the non-Jewish nanny who knows more about keeping kosher than you do?
Umbrellas. Wishing I had one this morning, actually.
Video. Especially Yiddish Word of the Day. More broadly, the sustained and vibrant engagement with Yiddish language and culture continues to astound and thrill me. Subscriptions to our bilingual Yiddish Brief newsletter have jumped 20% this year; sign up here to get it delivered to your inbox.
What if? That's the husband's favorite question, and I'm grateful to him for always asking it.
X. OK, this may be cheating, but just the letter 'X' is so great. I use it all the time in editing, suggesting a frame for a sentence with XXs for the writer to fill in. Not sure how I'd live without it!
You, our readers. People sometimes ask my favorite aspect of this job. One is certainly the time I spend on Friday afternoons responding to emails responding to this newsletter. There's nothing I'm more grateful for than your engagement, your attention, your feedback, your insights and your support.
Zoom.  I'm as tired of staring at a screen full of flat boxes as the next person. And yet. It remains an absolute marvel that with the touch of a button I can convene a meeting with colleagues around the country — or a live-journalism event with unlimited audience around the world. Like our Dec. 13 fundraiser with the Pulitzer Prize-winning reporter Maggie Haberman, about her new book, "Confidence Man: The Making of Donald Trump and the Breaking of America." Join us!
The post What I'm grateful for this Thanksgiving, from A to Z appeared first on The Forward.