This article is part of our morning briefing. Click here to get it delivered to your inbox each weekday.
Do 'bad Jews' really exist? A new book says no
Jews often assail one another for being too religious, or not religious enough, for using their Judaism as a cover for politics, or for failing to act on their Jewish values. (Bernie Madoff, anyone?)
You don't vote like me? You're a bad Jew. You don't keep kosher? You're a bad Jew. You're not supportive enough of Israel? Bad Jew. The debates are endless and chronicled in a new book of American Jewish history called — what else? — Bad Jews. Our Arno Rosenfeld chatted with its author, Emily Tamkin.
Historic example: Tamkin, a senior editor at The New Statesman who previously worked at Foreign Policy magazine and BuzzFeed News, recounts a series of inter-Jewish fights throughout the 20th century. One of the more interesting pieces of history she discovered was a book burning in New York focused on a  prayer book by Mordecai Kaplan, the founder of Reconstructionist Judaism. "Everybody in that story thinks that they were a good Jew," she said.
Takeaway: In interviews for the book, Tamkin said, she kept hearing the same refrain: "I'm a bad Jew." Her advice to readers who might feel that way about themselves? "I hope that they take this both as an invitation to join the conversation about Jewish identity," she said, "and also to explore what's meaningful for themselves — and feel like they're 'Jewish' enough to do that."
One week from tonight: Join Tamkin at the Marlene Meyerson JCC in Manhattan for a Friday night dinner and conversation about Bad Jews moderated by our opinion editor, Laura E. Adkins. Register for the event ➤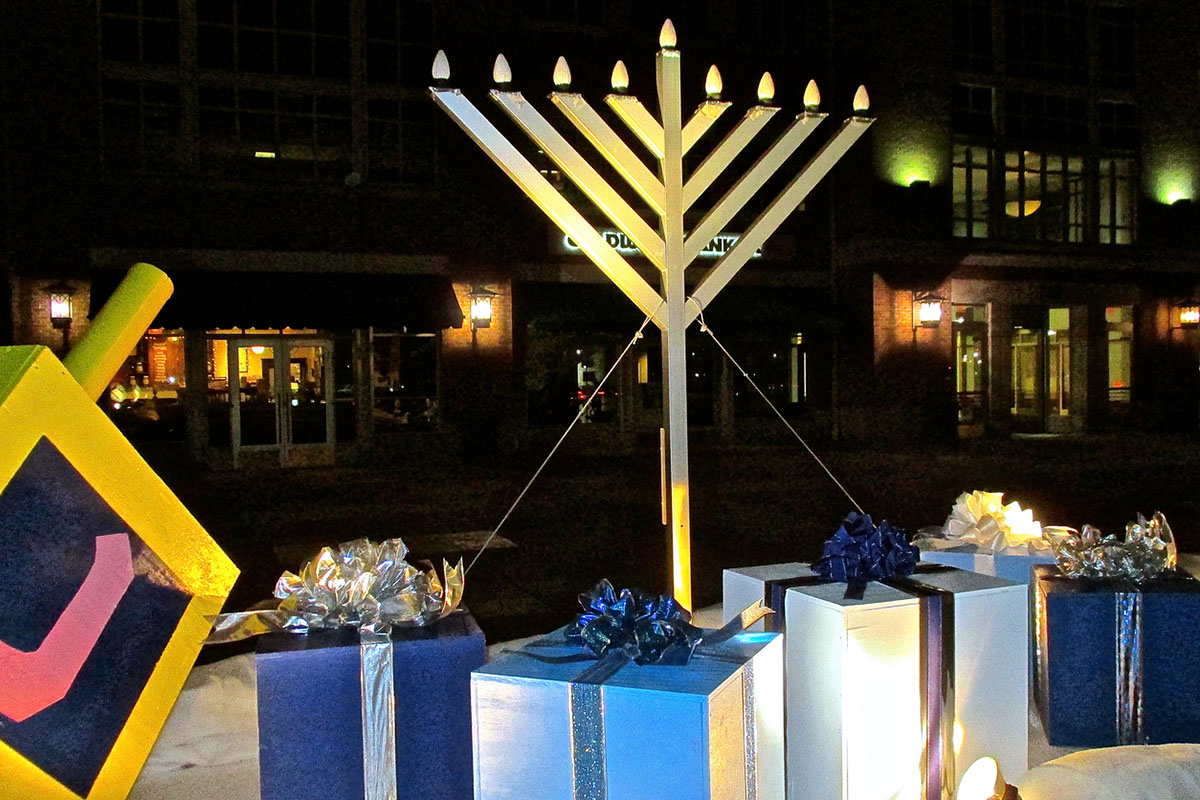 Is it dangerous to put Hanukkah decorations out this year? With antisemitic incidents on the rise, decorating for the holidays with giant menorahs or inflatable dreidels may give some Jews pause this year. But several people who've faced attacks in the past told us that the vandalism had only steeled their resolve to celebrate more openly. "I refuse to go into hiding," said one woman, "because that's what these hateful people want." Read the story ➤
Related: He brought Hanukkah to a street famous for Christmas lights. Antisemitism followed — but so did joy.
How a Yiddish encyclopedia became a document of the Holocaust and Jewish culture: Benjamin Ivry explores a fascinating publication that began in Berlin in 1932. Over the next 34 years, he writes, it "became a record of the Holocaust and focused on preserving European Jewish culture that had disappeared during the war years." Ivry interviewed Barry Trachtenberg, the author of The Holocaust & The Exile of Yiddish, on the history and legacy of this monumental work. Read the story ➤
Opinion | This American diplomat is one of the least-known architects of the state of Israel: Ralph Bunche, the first African American to win a Nobel Peace Prize, was honored for mediating between Israel and its neighbors during an influential United Nations decision 75 years ago that led to the birth of the Jewish state. "Were he alive today," writes Kal Raustiala, author of a new biography of Bunche, "he would surely counsel that it is not too late to pursue a path of compromise that would ensure lasting peace, and not a one-sided, but perhaps ultimately pyrrhic, victory." Read his essay ➤
But wait there's more…
Some Upper West Side residents are upset that a man indicted on charges related to a threat to attack a Manhattan synagogue remains free on bail following a court appearance Wednesday. He is living in his family's apartment in the neighborhood.
Former senior White House officials and allies of Donald Trump are expressing frustration that Ivanka Trump and Jared Kushner have not spoken out against Trump's dinner with Kanye West and Nick Fuentes two weeks ago.
Montana has among the fewest Jews per capita of any state. It also has a lot of hate groups. Now some local Jews are sending school kids Hanukkah kits with books, dreidels, chocolate gelt and lesson plans on tolerance.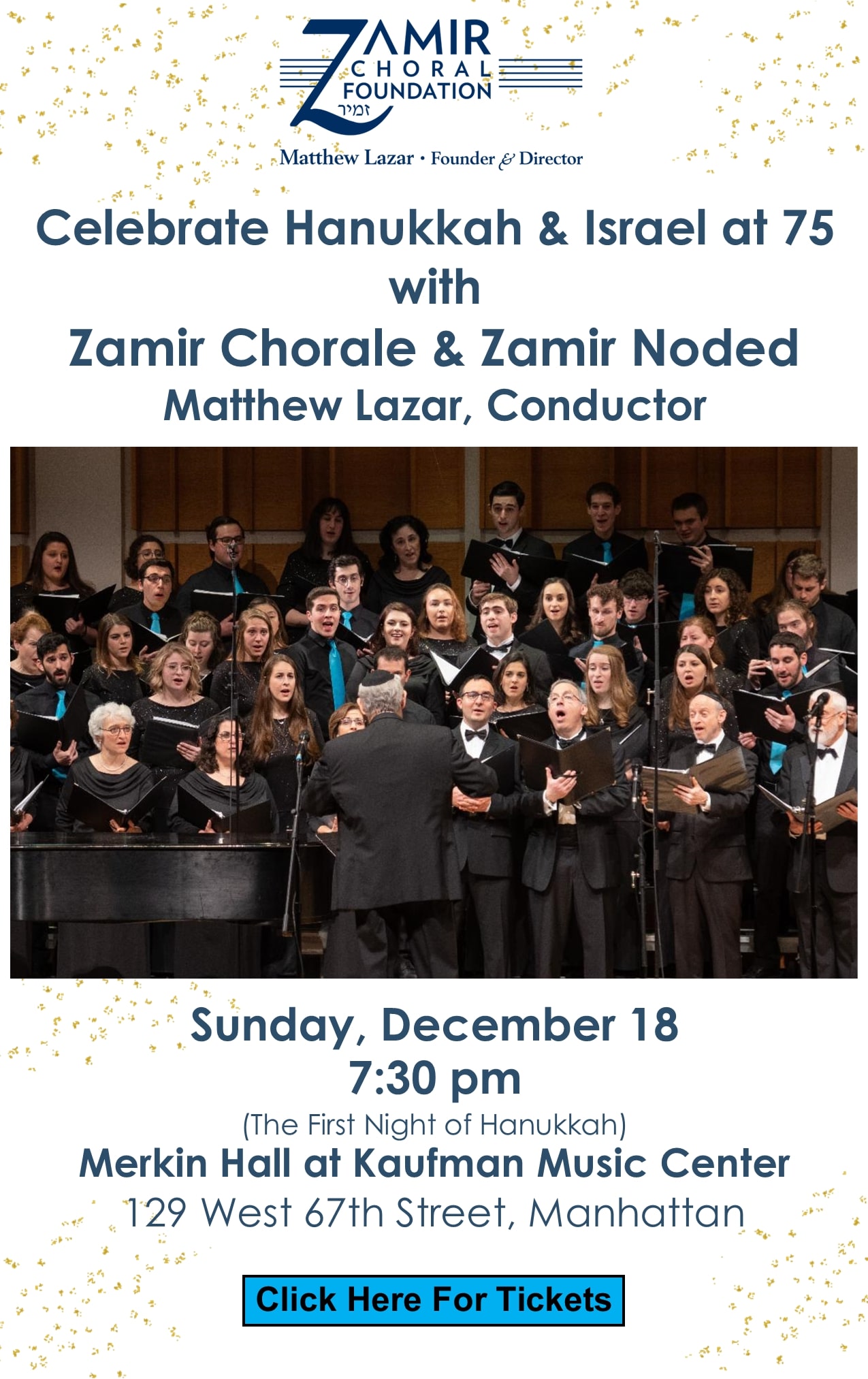 WHAT ELSE YOU NEED TO KNOW TODAY
Prince Harry and Meghan Markle on a visit to New Zealand. (Getty)

  Prince Harry said that dressing up in a Nazi costume at a party in 2005 was "probably one of the biggest mistakes of my life." In the highly anticipated docuseries, Harry & Meghan, which debuted on Netflix on Thursday, Harry said that after the incident he met with Rabbi Jonathan Sacks, who was then chief rabbi of England. "I felt so ashamed afterwards," he said of the costume. "All I wanted to do was make it right." (Vanity Fair)
  A new lawsuit accuses a woman of stealing nearly 5,000 deeds to plots at Jewish cemeteries throughout the New York area. She's refusing to turn them over after a domestic dispute with her husband, the suit says. He is affiliated with a Bukharian congregation that was holding the deeds for its members. (AMNY)
  The Cincinnati Police Department is searching for two suspects filmed vandalizing the Rose Warner Hillel House, which serves university students in the area. (Local 12)

  In 2021, 8% of adults who used online multiplayer video games were exposed to white supremacist ideology and themes. That rate more than doubled in 2022, according to a new ADL report. (ADL)
  Israel is on the verge of launching an experiment with self-driving buses and also plans to soon begin tests of pilotless planes carrying human passengers. "I'd much rather get on a driverless bus," said a transportation expert at Tel Aviv University, "than worry if the driver slept enough or already had their coffee." (The Circuit)
  A new stage musical is a very Jewish adaptation of Charles Dickens' A Christmas Carol. The plot of A Hanukkah Carol centers around Chava Kanipshin, a social media influencer who is visited by spirits of the past, present and future to reckon with her life's work — namely, her pursuit of internet fame by posting mean and embarrassing videos of her friends and family — before it is too late. (NY Jewish Week)
Shiva call ➤  Tom Tugend, who fought in three wars — two for the United States and one for Israel — and spent seven decades as a Jewish journalist covering, among other beats, Hollywood, died at 97. He was honored at last month's Los Angeles Jewish Journal gala. "You still get a certain kick in seeing your byline," he said. Read JTA's obituary ➤
Long weekend reads ➤  How Instagram turned a Holocaust memoir into a self-help manifesto … Why Lebanese farmers on the border with Israel are often accused of spying … My great-uncle, the Kapo.
In this weekend's edition of our print magazine: A new artificial intelligence tool became widely available this week. Type in a one sentence prompt like "write me a sermon about this week's Torah portion" and the results are pretty serviceable. We tried an idea a little less high-brow, asking the robot to write us several Hanukkah Hallmark movies – including one with a time-traveling Maccabee and another set in 1940s Poland. Read the plot summaries and check out our review of an actual Hanukkah Hallmark movie that comes out this month. Plus: Meet the artist behind the post office's new Hanukkah stamp. Download your copy ➤
On this day in history (1987): The first intifada began after an IDF tank collided with a civilian car, killing four Palestinians. In a 2017 article in the Forward, Suhad Babaa argued that we should look back on the uprising, which ended with the historic Oslo Accords in 1993, as an instance of nonviolent, female-led resistance. "The vast majority of the uprising was in fact characterized by incredible, highly effective and sustained grassroots organizing, with even the Israeli army citing 99% of the uprising's activities in the first 18-months as unarmed," she wrote. "Most surprising — and most ignored — is the fact that women made up the backbone of the uprising." 
On the Hebrew calendar, it's the 15th of Kislev, the yahrtzeit of Rabbi Yehuda Hanasi, who was the leader of the Jewish people after the destruction of the Second Temple.
David Letterman traveled to war-torn Ukraine and interviewed President Volodymyr Zelenskyy for the latest episode of his Netflix series, My Next Guest Needs No Introduction, which premieres Monday. The conversation took place in an underground bunker — with a live audience. "I've never done anything quite like this," Letterman said. Watch the trailer above.
–––
Thanks to PJ Grisar, Sarah Nachimson, Arno Rosenfeld and Talya Zax for contributing to today's newsletter. You can reach the "Forwarding" team at editorial@forward.com.
The post Who is a 'bad Jew'? It's complicated… appeared first on The Forward.