This article is part of our morning briefing. Click here to get it delivered to your inbox each weekday.
Miami Beach wants to shut down this synagogue. Those who pray there say it's not a synagogue.
A group of Orthodox Jews bought a 6,500-foot house in south Florida in 2020 for $1.2 million. They host services there on Shabbat and weekdays. They built a mikvah on the site. Neighbors complained about the traffic, the noise and the likely zoning code violations.
Lawsuits and counterclaims followed. Now the homeowners are suing the city of Miami Beach and its Jewish mayor in federal court for denying their right to exercise their religion. 
Full house: The plaintiffs argue, as do many small synagogues that operate out of homes across America, that as long as somebody lives on the premises full time, they are free to invite friends over for a prayer group, as their neighbors might host a Cub Scout meeting or a book club.
Tale of the tape: The city installed a surveillance camera outside the home and has obtained body cam footage from its code enforcers that show dozens of people attending services. Inside, videos show an industrial-size coffee urn, a community bulletin board with advertisements and posters describing COVID-19 protocols.
"There is an epidemic of hate facing our country," Doug Emhoff said Wednesday at the White House. (Getty)
How a tiny student group ended up at the White House antisemitism roundtable: Jewish on Campus' inclusion in yesterday's event is notable both because it is far smaller than all but one of the other organizations participating — and because several major Jewish groups that take more progressive approaches to antisemitism were not invited. Read the story ➤
Related: "I am proud to live openly as a Jew," Doug Emhoff, the second gentleman, said at the 90-minute session. "We cannot live in fear. We refuse to be afraid." Read more about the event.
J Street to AIPAC: 'Pull back' on political spending and we will too: Looking back on the midterms and ahead to 2024, the head of the left-leaning pro-Israel advocacy group J Street said this week that the more conservative American Israeli Public Affairs Committee's intense investment in partisan primaries is "not productive" and called on the group to pull back. "We expect to see them disarm first," J Street President Jeremy Ben-Ami told our Jacob Kornbluh. "We're not going to unilaterally disarm." Read the story ➤
President Biden called Hitler 'demonic.' Yiddish linguists say he could have chosen a better word: Responding to Kanye West's antisemitic tirades, Biden used a non-human metaphor that may diminish Hitler's personal responsibility. "The history of our planet," writes one scholar, "has shown again and again that this kind of depravity is well within the bounds of human nature." Our language columnist, Aviya Kushner, explains. Read the story ➤
But wait, there's more…
Dept. of corrections: In Wednesday's Forwarding, we incorrectly wrote that the holiday movie Menorah in the Middle is on Hallmark. It's on Hulu.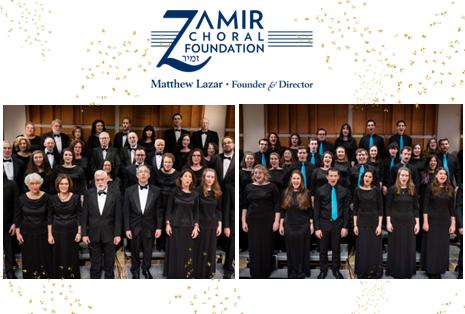 Conductor: Matthew Lazar
When: Sunday, December 18, 7:30 p.m. (The First Night of Hanukkah)
Where: Merkin Hall at Kaufman
Music Center
129 West 67th Street, Manhattan
For Tickets: kaufmanmusiccenter.org
Or Call the Box Office at:
212-501-3330
WHAT ELSE YOU NEED TO KNOW TODAY
Rabbi Walter Homolka stepped down from his leadership role at a rabbinical seminary in Germany. (Getty) 
  Germany approved its first-ever government plan designed to fight antisemitism. Days later, police foiled a plot by a network of far-right extremists to overthrow Germany's government. (JTA)

  And speaking of Germany … a prominent rabbi in the country resigned after a report this week confirmed abuse of power and sexual harassment at his rabbinic seminary. (JTA)

  Former Israeli Prime Minister Naftali Bennett filed a defamation lawsuit against a rabbi who falsely claimed in online sermons that Bennett's parents were not Jewish. It's part of a campaign Bennett says is aimed to "clean up the internet," with lawsuits and letters targeting people he claims have spread false information about him. (Times of Israel)

  A gay, Jewish California lawmaker was targeted with a bomb threat that listed his home address and threatened to shoot up his office at the State Capitol in Sacramento. This was the second such threat against State Sen. Scott Wiener, and comes amid recent online exchanges with Rep. Marjorie Taylor Greene, whose Twitter account was reinstated following Elon Musk's takeover. (CBS News)
  The NYPD arrested a man suspected of assaulting Orthodox Jews in Williamsburg, Brooklyn, in two separate incidents in October. (Twitter)

  A Haredi political party in Israel is reportedly demanding a law that would ban non-Orthodox prayer at the Western Wall in exchange for joining incoming Prime Minister Benjamin Netanyahu's new coalition. (Times of Israel)  

  A school board in Farmington, Connecticut, reversed its decision to eliminate days off for Rosh Hashanah and Yom Kippur. The board will reconvene in January to determine the fate of Diwali. (Hartford Courant)

  HarperCollins added the phrase "A Christmas, Hanukkah, and holiday story" to a young adult novel about a Jewish couple, without the author's consent. The lesbian love story, How to Excavate a Heart, does take place on Christmas, though well after Hanukkah; the title seems to have been changed to catch people searching online for holiday books. The author's agent eventually got the publisher to remove the tagline. (The Mary Sue)
  The new heads of Warner Bros.' D.C. Comics division nixed a planned third Gal Gadot Wonder Woman movie. The company is restructuring in hopes of better competing with Marvel in the superhero space in coming years. (The Hollywood Reporter)

  Julia Haart, the star of Netflix's My Unorthodox Life and a Russian native, said at a Forward event last night that she will soon head to Ukraine to meet with troops and deliver medical supplies. (Facebook) 
What else we're reading ➤  Artists are boycotting Finland's national gallery over an Israeli billionaire on its board … Patagonia's first new synagogue in decades reveals a growing Argentine-Jewish community … Meet the Canadian woman on a quest to put 'Jewpanese' on the map.
John Lennon (left) and the rest of the Beatles arriving in New York City in 1964. (Library of Congress)
On this day in history (1980): John Lennon was assassinated. Many Jewish people played a crucial role in Lennon's career, including the Beatles' manager, Brian Epstein, who discovered the Fab Four in Liverpool, and the New York radio host Murray Kaufman, who was an early and passionate supporter of the band. Lennon also sang in Hebrew as a part of a 1969 radio broadcast for Voice of Israel. Read his secret Jewish history ➤
Last year on this day, amidst a dire nationwide cream cheese shortage, we offered a dozen alternate toppings for your bagel. Avocado, anyone?
On the Hebrew calendar, it's the 14th of Kislev which is both the birthday and yahrtzeit of the biblical Reuben, Jacob's eldest son.
In honor of Pretend to Be a Time Traveler Day, here's an essay I wrote about life lessons from sitting shiva and watching Back to the Future. 
One week from tonight: Join our Yiddish editor, Rukhl Schaechter, for a conversation with comedian Rabbi Barry Schechter (no relation, different spelling). Imagine The Tonight Show – but in the mameloshn. Register here ➤
That's Rick Rosenthal in the above photos, getting in shape to play Santa Claus at a mall in Atlanta. Rosenthal, who is Orthodox, makes a full-time living as Father Christmas. He performs as Santa Rick at corporate events and shopping centers, and trains others as the dean of the Northern Lights Santa Academy. "As a Jew, it's easy to do, because it tells us that we're supposed to be a light unto the nation," Rosenthal told us in a 2020 interview.
–––
Thanks to Sarah Nachimson and Talya Zax for contributing to today's newsletter. You can reach the "Forwarding" team at editorial@forward.com.
The post Why Miami Beach is trying to shut down an Orthodox minyan appeared first on The Forward.