Barbara Simon is trying to paint, but the PTA won't let her. 
It's been a rough few months for Barbara, who moved from Manhattan to New Jersey in order to have more time to paint but has yet to create any new work. When a majestic, orange-bellied songbird lands on a tree outside her window, she rushes through her untidy, semi-furnished home for canvas and watercolors. Spring is here! Art is possible!
As soon as she begins to outline the bird, the doorbell rings, frightening it off. Standing on the front porch is Jan Wheeler, whose imperturbable bouffant denotes her 1970s supermom status, here to ascertain how many flannel stars Barbara has cut out for the PTA's latest decoration project. (The answer: not nearly enough.) Jan's nightmarishly cheerful presence encapsulates the chasm between Barbara's expectations of life in suburbia (enough time and space to be a supermom and a dedicated painter) and the reality she's living (burnt dinners, scatterbrained parenting, Sisyphean busywork at the behest of Jan). 
Barbara is the mother of the titular Margaret in Judy Blume's Are You There God? It's Me, Margaret. But this scene does not appear in Blume's 1970 young adult novel. Rather, it's an innovation of the long-awaited movie adaptation (in theaters nationwide April 28), which caters less to today's preteen Margarets than the women who grew up with her. 
While the book depicts Barbara (played by Rachel McAdams, a shock to the system for those of us who know her as Mean Girls' Regina George) through preteen eyes as an all-powerful and often embarrassing authority figure, Kelly Fremon-Craig's adaptation transforms her into a character in her own right. Barbara's life is destabilized by the move to New Jersey, just as Margaret's is. And like Margaret (a winning Abby Ryder Fortson), she faces new questions about how to live a fulfilling life. But while Margaret responds to her circumstances by transforming herself, the film is unable to imagine how the grown woman at its heart might do the same. 
Blume, 85, is the author of 29 books for children and adults; but she's best known for Are You There, God? which has earned generations of loyal readers for its frank discussions of puberty, boys and even religion. Unfolding over the course of an academic year, the story begins when 11-year-old Margaret returns from summer camp to the unwelcome announcement that her parents are giving up their bohemian Manhattan apartment and moving into a split-level in Farbrook, New Jersey. The film milks the undesirable nature of New Jersey for laughs (as a product of the Garden State, I was not amused!) but Margaret's dismay is understandable: Not only is she facing the onset of puberty, but she has to navigate a new school and find new friends as well.
Fortunately for Margaret, her new neighbor Nancy (Elle Graham) volunteers to guide her through life in the sticks. Daughter of the fearsome Jan (Kate MacCluggage), Nancy is the incarnation of everything wrong with middle school. She critiques Margaret's flat chest, shames her for having never kissed a boy and puts her down at every opportunity even as she initiates her into a secret all-girls club whose main objectives include the acquisition of bras, discussion of desirable boys and rumor-mongering about the few classmates who have developed the breasts they so desperately crave. In just a few months, the shy and sensitive Margaret has become an apprentice mean girl.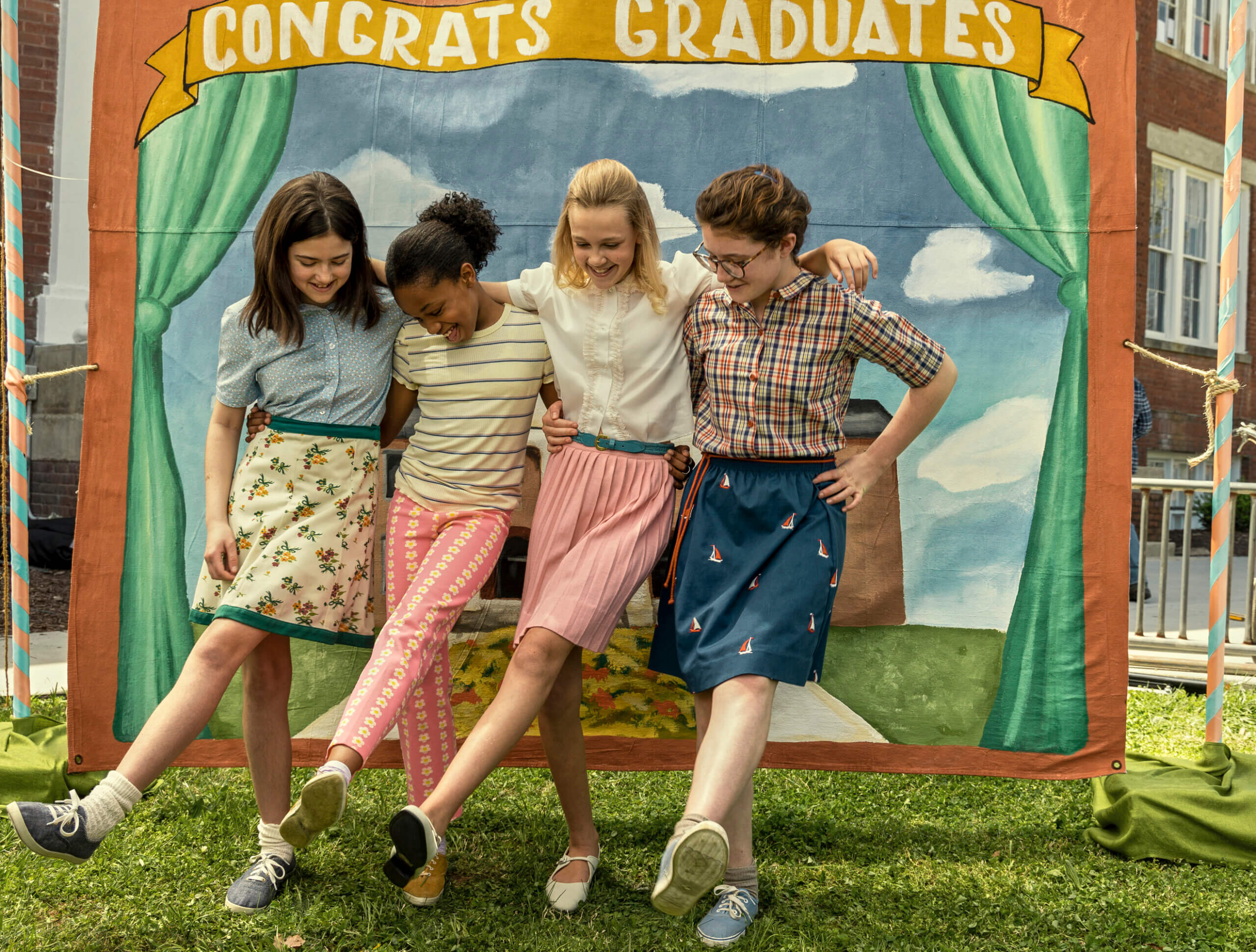 Margaret may be almost a teenager, but she still indulges in the occasional silly dance. Courtesy of Lionsgate
In general, the film adaptation of Are You There, God?, which Fremon-Craig wrote and Blume helped to produce, hews closely enough to the book to stave off criticism from the most exacting of fans. Its major departure from Blume canon is allowing Margaret's mother to exist outside of her (understandably) self-involved gaze. Whereas the book's parents provide little explanation for the move to New Jersey, the movie's Barbara spouts justifications that hint at her anxieties as a mother and artist: In addition go giving up teaching and devoting herself to painting, she'll spend every afternoon at home with Margaret. Where the book's Margaret serves up humorously cold-blooded assessments of her mother — on move-in day, she describes her arranging pots and pans "with her rear end sticking out of a bottom kitchen cabinet" — the film takes Barbara more seriously, showing her overwhelmed by the move and the new pressures of housewifery she didn't anticipate.
And just like Margaret, Barbara finds that she's abandoned herself in the effort to fit in. At the first PTA meeting of the year, Barbara foolishly volunteers to sit on no fewer than three committees, and accordingly finds herself embroiled in such urgent civic projects as the production of enough flannel stars to cover the school gymnasium's ceiling. Barbara's naïveté is somewhat unconvincing — are there no PTAs in New York? — as are the bot-like wives that populate Farbrook. (As a New Jersey native, it is my solemn duty to remind you that there are as many Jan Wheelers in Manhattan as there are Barbara Simons laboring quietly in cul-de-sacs.) But Barbara's dismay at having taken steps to change her life and finding herself stymied and trapped all the same is entirely compelling. 
Although she spends much of her first year in Farbrook drifting in Nancy's wake, Margaret also grows and changes of her own volition. The daughter of a Jewish father and lapsed Christian mother, she tries out different religions, visiting church with her friends and synagogue with her grandmother. (A hilariously accurate send-up of a certain brand of mind-numbing Shabbat service had me choking on my Sour Patch Kids.) She quietly pursues the boy she likes, even when her friends deem him gross. And most importantly, she decides not to be a mean girl, turning away from Nancy and befriending the bodacious classmate their "club" spent so much time mocking. 
No such transformation is on the horizon for Barbara. The film tidily resolves her woes by providing her with the kind of mythical art teaching job that is both richly fulfilling and allows a working woman time to make pot roast for dinner. While she does drop all her PTA committees in a satisfying confrontation with Jan, the new job feels like a deus ex machina, a cosmetic change that allows Barbara to resume a quainter version of her city life without confronting the tensions that motivated and vexed her move to the suburbs: Can she work and paint at the same time? Is it possible to be a Perfect Mother, and does she want that for herself? Instead of seeing how Barbara might act within her imperfect circumstances, the film tweaks the circumstances to prevent the need for action.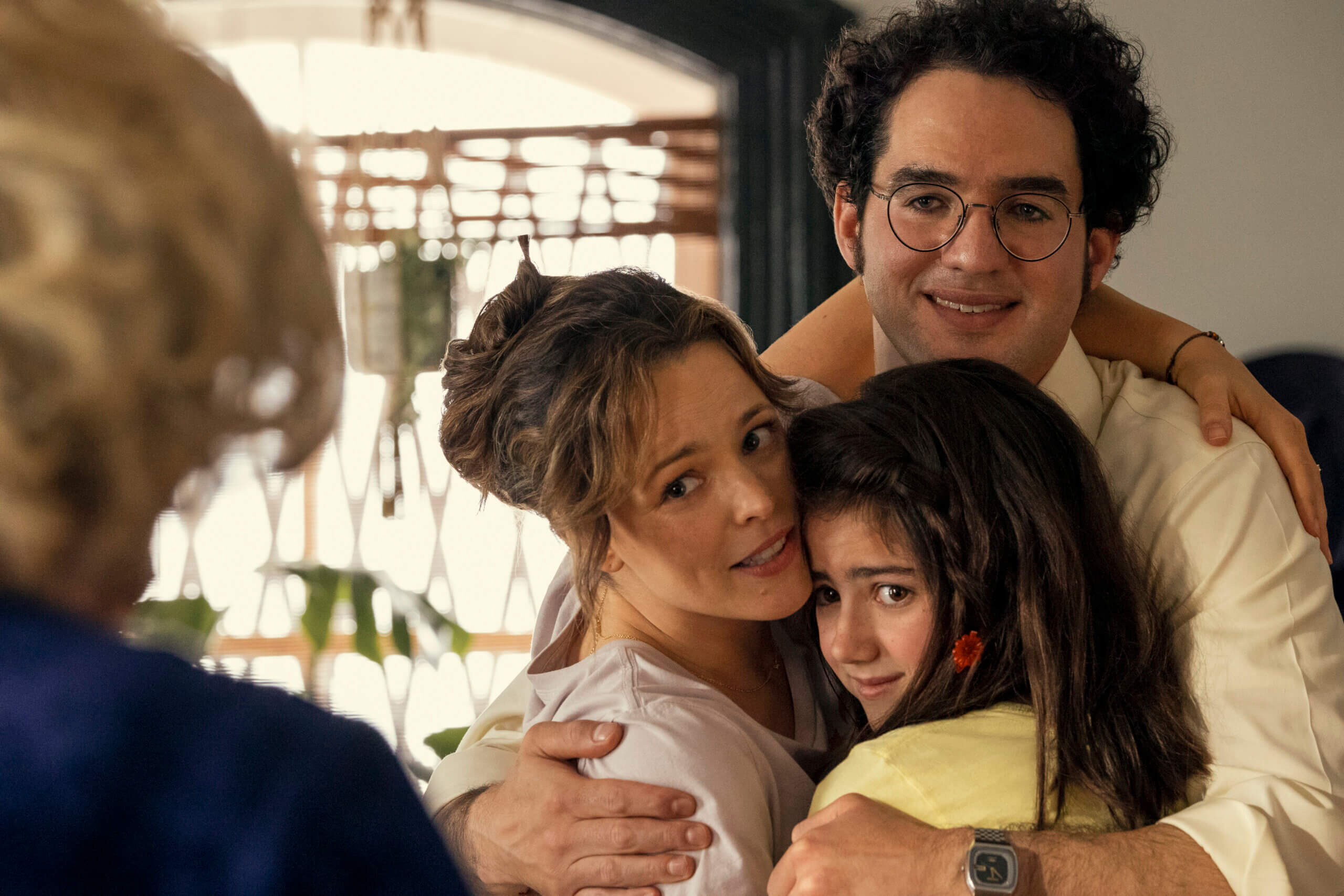 Barbara (Rachel McAdams) and her husband Herb (Benny Safdie) corral Margaret (Abby Ryder Fortson) for a hug. Courtesy of Lionsgate
That these questions go unanswered is not particularly surprising, nor does the fault really lie with the team behind Are You There, God? Coming-of-age tales blanket our bookstores, but stories of grown women who transform themselves are far less common, especially when those women have spouses and children and household responsibilities. The comparatively few books that depict women throwing over domestic duties in the name of self-invention, like Elena Ferrante's Neapolitan Novels, become literary lighting rods precisely because they tap into our mingled fascination with and fear of women who prioritize their own desires over their family's stability. 
If Margaret's trajectory, by contrast, feels almost predictable — if it is, in fact, the literal plot of Mean Girls — that's not because her storyline is inherently more plausible than one in which Barbara effects radical change in her own life. If nothing seems more natural to us, in 2023, than preteen girls going through a period of horrified and hilarious fascination with their bodies, that's because Blume and other authors wrote those stories and changed our literary imagination of girlhood. 
I left the movie theater unsatisfied on Barbara's behalf. But I was also reminded that what is uncharted now is not necessarily unimaginable. I couldn't think of that many great alternatives for Barbara, not without resorting to the kind of melodrama that Are You There, God? so neatly avoids. But I have confidence someone will write her story one day, just as Blume wrote Margaret's. 
The post Why the 'Are You There, God? It's Me, Margaret' movie is for grown-ups more than girls appeared first on The Forward.